US cannabis industry employs over 100,000 people
Date published: Wednesday, 20th April 2016
Today marks unofficial holiday for marijuana in parts of the United States, creating jobs for over 100,000 people.
Bloomberg reported that "In fact, there are about as many employees of legal weed businesses as there are insurance underwriters, Web developers or nurse practitioners."
The number of jobs in the pot industry, according to the news hub, has surged in recent years, fueled by more states legalizing the drug.
Cannabis, according to Marijuana Business Daily, is legal for adult recreational use in Alaska, Colorado, Oregon, Washington and the District of Columbia, and it is available for medical purposes in 24 states.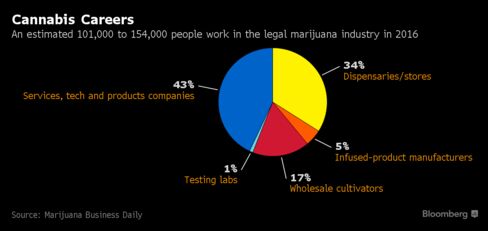 The company, one of just two licensed medical cannabis producers in Minnesota, isn't offering any sales or promotions for 4/20, according to CEO Kyle Kingsley.
But after receiving an inquiry from Marijuana Business Daily, Kingsley chose a different way to mark the date.
"We're embracing 4/20 and asking everybody in the medical cannabis industry to boycott Google due to their backwards, outdated stance on advertising for medical cannabis," Kingsley said, referring to the Internet search giant's ban on MMJ product ads.
"That's our 4/20. Nothing else going on," Kingsley added. "It just isn't that relevant. I just don't know a ton about it."