Zidane must learn from Rafa's 4-0 loss to ensure first Clasico win
Date published: Saturday, 2nd April 2016
The Frenchman makes his debut as coach in the famous fixture 10 years after playing in one for the final time
It is the first Clasico test for Zinedine Zidane, the coach. The former France icon featured for Real Madrid in the famous fixture as a player for the last time almost exactly 10 years ago and says he wants to enjoy the game against Barcelona on Saturday.
Zidane was relaxed at the pre-match press conference at Valdebebas on Friday.
The 43-year-old said he would sleep easily on Friday night because the Camp Nou clash is merely "a game of football." To fans of both teams, however, it means much more than that.
And it will for the French coach as well, as he indeed admitted. "The Clasico is always the most special thing there is for a player," he said. "Now I'm going to experience that as a coach. It's the first one. I'm very happy."
However, he must learn lessons from Madrid's 4-0 loss to Barca at the Bernabeu in November or this first Clasico could also be his last.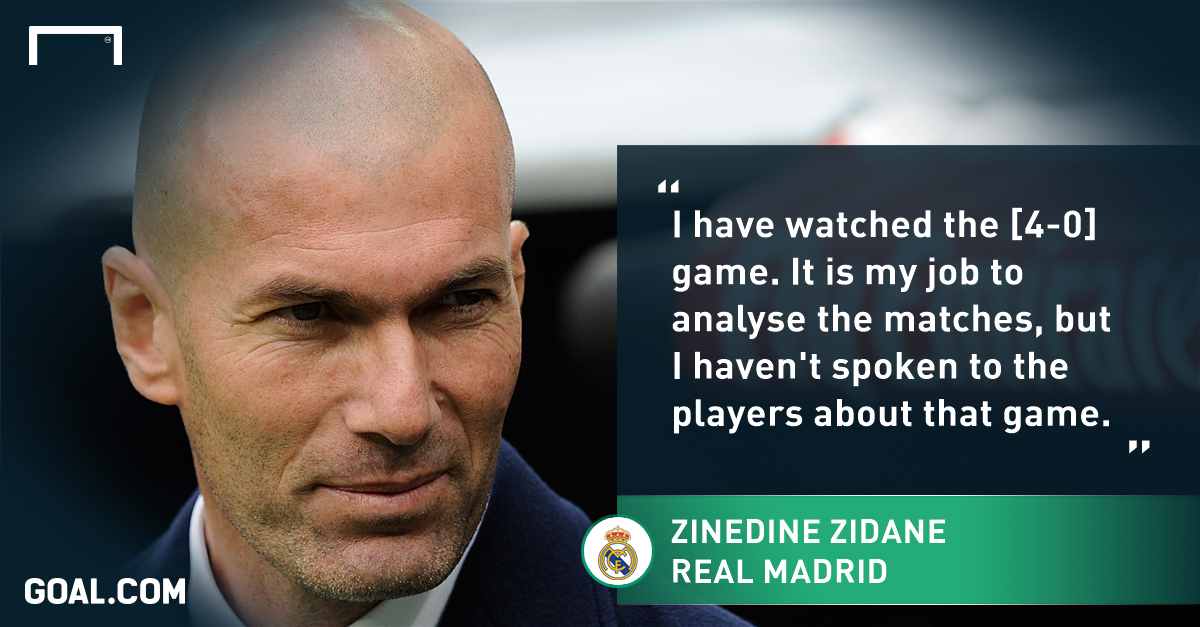 That night Madrid was torn apart by a Barca side that ran riot at the home of its fiercest rival, even though Lionel Messi spent most of the match on the bench after missing the previous seven-and-a-half weeks through injury.
The result was damaging and even though club chief Florentino Perez came out two days later to support Rafa Benitez, the Spanish coach was on borrowed time from that moment on. It was simply a matter of how long he would last - and the answer was six more weeks.
Asked on Friday if he had watched that match with the players, Zidane said: "I have watched it. I analyze the games, but the players haven't watched it and I haven't spoken to them about that match.
"They know what happened. But we are only looking ahead to this game now. Tomorrow's is a different match, all are different and revenge, let's see … it's a game that we have to win. That we want to win."
In the 4-0 loss on Nov. 21, Benitez betrayed his own ideas. Casemiro was left out of the team after appearing in the previous eight games and a midfield of Toni Kroos, Luka Modric and James Rodriguez sank without trace as Barca bossed possession at the Bernabeu.
Images of the huge holes in Madrid's midfield appeared on social media during the game and the vast space between them and the three forwards was alarming.
Luis Enrique's side was given the freedom of the Santiago Bernabeu and duly exploited it.
Four goals could have been five, six or seven. At the end of the match Gerard Pique was even annoyed that Barca had not won 5-0 as Munir El Haddadi missed a chance when the defender was in a prime position to score.
Zidane has picked Casemiro for the last five games and the Frenchman is unlikely to bow to politics as Benitez did and select such a soft midfield at Camp Nou.
The Brazilian brings balance and will be key in Saturday's game, while Zidane will also be stressing to his three forwards the importance of their defensive duties.
Gareth Bale, Karim Benzema and Cristiano Ronaldo have appeared all together on very few occasions so far this season and the Portuguese bemoaned the constant absence of his two fellow forwards after the derby defeat at home to Atletico at the end of February.
All three are fit for the Clasico and were on fine form in the 4-0 win at home to Sevilla prior to the international break. Now, however, they carry the hopes of their team into the game against Barca and have a point to prove after losing the last three meetings to Luis Enrique's side.
"Tomorrow is a game to change that," Zidane said. "Nothing more. And we are going to try." What he needs, though, is all three tracking back and pressing; something that has not happened very often over the past few months.
Another area of concern in the 4-0 loss was the right-back slot, with Danilo desperately disappointing and out of his depth on that flank.
Benitez, it seemed, had felt obliged to select the expensive summer signing, but it backfired and now Zidane could decide to bring back the more mature Dani Carvajal instead on Saturday.
Whatever he does, it will be anything but easy as Barca is unbeaten in its last 39 games and will be a big favorite in this one.
"It doesn't worry me," Zizou said on Friday. "We are going to play a game of football and we will be as concentrated as we have to be for that. What I want to see is a good game of football and I want to see my team win.
"We have an idea of how to play and we are going to try and do it that way. This is a match that's a bit different, but nothing will change for us. We will try to play as well as we can and start the game strongly."
Time will tell whether that is enough, but whatever the result, a positive performance could give Zidane the boost he needs to go on and achieve great things at Madrid.
A repeat of November's debacle, however, and he may never coach in the Clasico again.